Lancashire cricketer Harry Pilling dies aged 69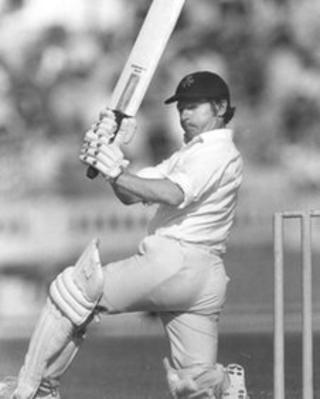 Former Lancashire batsman Harry Pilling has died at the age of 69.
Pilling, who was born in Ashton-under-Lyne, was one of the shortest cricketers in modern times at 5ft 3ins. He spent 18 years at Old Trafford.
One of his most memorable innings for Lancashire was an unbeaten 70 against Sussex to help secure the county's first Gillette Cup in 1970.
BBC cricket commentator Jonathan Agnew said of Pilling: "A tiny man physically, but a massive character."
He added that Pilling had been "an integral member of Lancashire's brilliant one-day team of the 1970s".
'Champion Lancastrian'
Lancashire County Cricket Club chief executive Jim Cumbes said: "We are greatly saddened to hear about Harry's passing.
"He was a stalwart of the Lancashire side in the 1960s and 1970s and was a key member of the successful one-day teams from that era.
"Our thoughts are with his family and friends at this sad time."
Other tributes paid to Pilling included one from former England coach and Lancashire captain David Lloyd.
He wrote on Twitter: "Very said to here that Harry Pilling has passed away... A Champion Lancastrian."
And BBC Sport's Phil McNulty tweeted: "Sad to hear of the death of one of the heroes of my cricketing youth & key member of Lancashire's 1970s Gillette Cup kings Harry Pilling."