Sandbag advice amid Lancashire flood warnings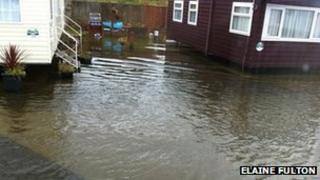 People living in Lancashire are being advised to use sandbags to help protect their properties from flooding amid heavy rain in the region.
There is up to 3ft (90cm) of standing water in parts of Hambleton, with some homes and roads affected by floods.
The Environment Agency has issued three flood warnings for the Crossens area, Croston and Pimlico Brook in Clitheroe.
Garstang Community Primary School had to shut because of flooding in classrooms.
The Environment Agency has issued three flood warnings for the Crossens area from Ormskirk to Southport including Banks, Birkdale, Brown Edge, Mere Brow and Scarisbrick, the River Yarrow in Croston relating to properties on Grape Lane, Town Road, and Yarrow Close and Pimlico Brook in Clitheroe.
The Garstang Community Primary School's lower ground classrooms were flooded with more than 75mm of water.
Head teacher Steph Reeves described the flood as "devastating".
'Close to breaching'
As well as children missing lessons, she said the children's work and even their nativity costumes were ruined in the floods.
Wyre Council has urged people at risk to collect sandbags from Thornton Sports Centre and Poulton Civic Centre.
Sandbags saved Toni Dugdale's property on Sherbourne Road in Hambleton on Monday but she fears with continued rain they will not protect it for much longer.
She said: "It was very close to breaching last night and got right to the door but then eased off."
Town Lane, the main road in Croston village, the scene of floodings this summer, is currently closed. Rain is affecting all the roads in and out of Croston so motorists are advised to avoid the area.
Simon Clark from Chorley Council said it was keeping a close watch on the River Yarrow's high tide at 20:30 BST. He said some homes at risk of flooding are still being refurbished after the last flood.
Mr Clark said: "Unfortunately some of those homes are only just getting back to full refurbishment. In fact one of the properties I visited today had just had a new kitchen delivered and had to move the new kitchen being fitted out the way."
Holidaymakers at Cala Gran Holiday Park in Fleetwood have been evacuated.
Elaine Fulton, from Glasgow, arrived at the caravan park with her husband and two-year-old on Monday.
She said: "We were told to evacuate at around 10 this morning due to the flooding.
'Hasn't stopped raining'
"Apparently the other side of the site is worse off and was evacuated before us.
"It hasn't stopped raining since we arrived, it's only just stopped."
The family has now booked alternative accommodation.
Rain and surface water is causing traffic disruption particularly in Croston and around Chorley and the River Lune is affecting roads around Lancaster.
Northern Rail said the Wigan Wallgate-to-Southport and the Blackburn-to-Clitheroe lines were closed due to flooding and replacement buses were operating.
Some areas of the country have experienced a month's rainfall in 24 hours.
Heavy downpours across England have resulted in homes being evacuated, disruption to train services and school closures while many roads have been closed as a result of flooding.