Lia Green post-mortem tests confirm murder inquiry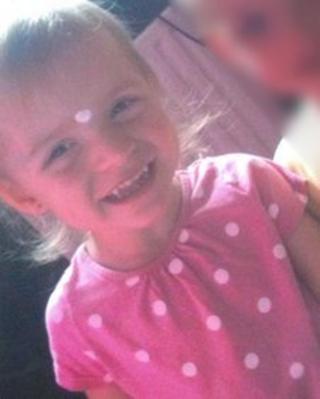 The death of a three-year-old girl from Preston is being treated as murder after new tests confirmed it was not the result of a playground accident.
Lia Green was pronounced dead at Royal Preston Hospital after her parents called emergency services to say she was unwell on 30 August.
The findings of the second post-mortem examination are the same as the first, said police.
The pathologist believed her death was caused by "significant violence".
Two arrests
Police said the family had been informed of the findings.
Det Supt Dermott Horrigan said: "As expected the second post-mortem has revealed exactly the same cause of death as the first and shows that this is an investigation into Lia's murder.
"Lia Green died as a result of an act of violence inflicted upon her.
"She did not die as a result of a playground accident - an account that's being portrayed by certain people that appears to suit some individuals."
He appealed to anyone with information to contact Lancashire Police.
A 22-year-old man and a 20-year-old woman from Preston were arrested on suspicion of murder and are currently on bail until October.