£1m refurbishment for Fleetwood's Marine Gardens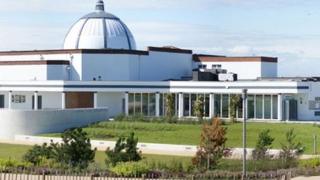 A £1m refurbishment of Fleetwood's Marine Gardens has been officially opened.
The improvements, which have taken two years, include a new outdoor performance area, landscaping and a water fountain play feature.
The gardens were opened by Doreen Lofthouse, from the Fleetwood family which makes the famous Fisherman's Friend sweets.
It is the first part of a wider coastal development programme.
The Sea Change project includes an observatory at Rossall Point Tower and a mythic coast artwork trail along Cleveleys seafront.
Chris Wyatt from Wyre Council said he was "very, very proud" of the refurbishment, which aims to recreate the atmosphere of the garden's 1930s heyday.
"It's the people's gardens and we really want to encourage local people to use the garden in their own right," he said.