Fracking could create 'thousands' of engineering jobs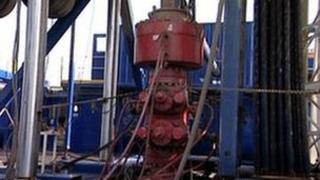 Thousands of high-skilled engineering jobs could be created in Lancashire by utilising shale gas resources, said the Institution of Mechanical Engineers.
The organisation predicted the creation of 1,300 jobs per year over a ten-year drill programme in the county and a total of 4,200 nationwide.
Dr Tim Fox from the institution said it would provide Lancashire with "a much-needed economic boost".
UK anti-fracking protesters want it to stop until risks are fully assessed.
The Institution of Mechanical Engineers (IMechE) said jobs created by fracking, a form of gas extraction, included chemical, mechanical, civil and structural engineers, operations staff and geologists.
The registered charity said the skills developed over the decade could then be sold abroad, as the oil and gas experience built up in North Sea oil fields is now being sold across the world.
'Revive engineering heritage'
Dr Tim Fox, IMechE's head of energy and environment, said: "Shale gas has the potential to give Lancashire a much-needed economic boost.
"The engineering jobs created will also help to revive the North West's engineering heritage and rebalance the UK's skewed economy."
Cuadrilla, the firm licensed to drill fracking in the UK, said its figures tallied with the IMechE.
Cuadrilla's chief executive Francis Egan said: "[It] echoes our hopes for the creation of skilled local jobs and investment for Lancashire's communities and the establishment of the county as the centre of a shale gas industry not just in the UK but also in Europe."
'Enhanced regulations'
The government is currently considering a report by an independent panel of experts published in April on the future of fracking in the UK.
The report recommended fracking should continue under stricter regulations.
It follows concerns over the technique after two small earthquakes near Blackpool in April and May 2011.
Friends of the Earth's Helen Rimmer said: "There is growing evidence linking fracking to water contamination, air pollution and climate change."
An IMechE spokesman said regarding safety concerns: "Regulations do need to be enhanced but we are confident if regulations are followed [fracking] will be safe."