Blackpool's beaches 'must improve', summit is told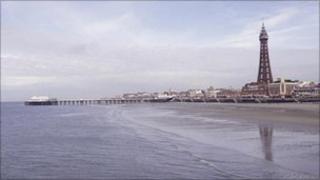 Holidaymakers may stop visiting Blackpool's beaches unless bathing waters are improved, the Marine Conservation Society (MCS) said.
The MCS's Dr Robert Keirle said the town must "act now before it's too late and we see closed signs on beaches".
United Utilities, Blackpool Council and the Environment Agency have held a summit in the town to look at ways to clean up the coastline.
The agency has warned the impact on the resort could be £1bn in lost tourism.
Dr Keirle, MCS's pollution programme manager, said it was "make or break" for the town.
He said: "This is our last best chance to actually clean the coastal water quality along the entire Fylde coast.
"If visitors are aware that the water quality is still poor they are going to vote with their feet and go to the next resort where the water is cleaner.
"We've got regulations now that we are not complying with and in 2015 new bathing water regulations are being brought in which are doubly stringent than they are now.
"We've really got to get our act together to save Blackpool."
Wrongly connected toilets
The Turning Tides Summit 2012 aims to help groups to work together to clean up the Irish Sea and the rivers that feed it.
The new Environment Agency's Bathing Water Directive, due to come into effect in 2015, puts a stronger emphasis on beach management and public information.
There are currently no beaches in the North West awarded a Blue Flag - the Foundation for Environmental Education's standard for water quality.
Dan Bond from the Environment Agency estimated the impact of lost tourism as £1bn over 15 years.
He said: "We are working with the tourist industries and local authorities to try and address the issues we face.
"We are working hard with water companies, local authorities and farmers to identify and tackle sources of pollution at all bathing sites in the region.
"The North West suffers from wet weather and heavy rainfall overwhelms the sewer network which can create pollution on our beaches and rivers. It also washes pollutants from farmlands.
"A big issue in the North West is wrongly connected toilets and washing machines which are plumbed into the wrong waste pipes."
Water company United Utilities said it is planning to carry out improvements on its sewer system.
Lee Bryce, United Utilities bathing waters manager, said: "We have come a long way over the past 20 years and we've spent around £1bn on improving bathing water quality across the North West.
"This has dramatically increased the number of beaches complying with the current standards.
"We recognise that we have a key part to play and we'll be continuing to improve the wastewater network even further."
Neil Jack, Blackpool Council's chief executive, said: "It is important we all work together to protect our waters and the tourist economy."