Tributes paid to couple killed in Weeton collision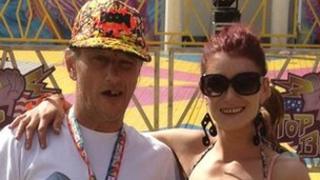 Tributes have been paid to a couple who died when the motorbike they were riding collided with a tractor in Lancashire.
Patrick Cresswell, 46, and passenger Suzanne Smith, 25, from Marton in Blackpool, died in the collision on Mythop Road near Weeton on Sunday.
Ms Smith's father, Sean Kerr, said she has two daughters aged three and seven.
He said: "Suzanne will be sadly missed by all of us. I wish she was still here."
Mr Cresswell's father, Barry Cresswell, said: "Patrick was his own man, I will miss him dearly.
"I always thought he would bury me and not the other way around."
Police said the Honda bike and the tractor collided at about 16:00 BST.
The driver of the tractor was left shocked but uninjured.
Anyone who witnessed the incident is urged to contact police.