Preston Guild 2012 celebrations draw to close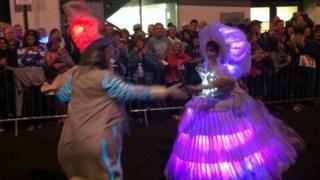 Thousands of people lined the streets for the closing celebrations of the Preston Guild 2012.
Some 3,000 people on 70 floats took part in the Torchlight procession, a Guild tradition since 1882, through the city's streets on Saturday night.
It followed the last formal act of Preston's Guild celebrations which was the adjournment of the Guild Court until 2032.
Thousands were also partying in Avenham Park at the day-long GFest music event.
Soul star Maverick Sabre headlined the GFest along with urban performer Labrinth and R&B girl group Stooshe.
The adjournment of the Guild Court included the appointment of 20 burgesses who were nominated by the people of Preston for the first time.
A burgess is a registered member of the Guild Merchant and originally anybody who wanted to trade in Preston, whether as a merchant, a craftsman, a market stall holder or in any other capacity, was required to be a member.
The Preston Guild dates back to 1179 when King Henry II granted the town the right to have a Guild Merchant and gave the town its first royal charter.
It takes place every 20 years and is the only one still celebrated in the UK.