Banks fracking protester guilty of public order offences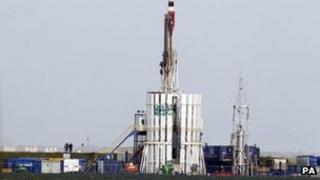 A fracking protester who invaded a rig in Lancashire has been found guilty of public order offences.
A demonstration halted drilling at the rig owned by Cuadrilla at Banks near Southport on 1 December.
Zoe Smith, 35, from Bristol, a member of the Bristol Rising Tide group, was fined £250 and ordered to pay £750 costs at Preston Magistrates' Court.
Fracking is a technique in which high-pressure liquid is pumped underground to fracture shale rock and release gas.
Three other protesters who were members of the Frack Off group were found guilty of trespass, assault and obstruction at the same rig in July.
Two earthquakes
Edward Lloyd-Davies, 39, and Lauren Pepperell, 26, both of Brighton, were given two-year conditional discharges and Barbara Cookson, 61, of Liverpool, received a 12-month conditional discharge for the incident in November.
Cuadrilla suspended shale gas test drilling in June 2011, following two small earthquakes near Blackpool.
One tremor of magnitude 2.3 hit the Fylde coast on 1 April while the second of magnitude 1.4 happened on 27 May.
A report commissioned by Cuadrilla last year found it was "highly probable" fracking caused the tremors.