Blackpool 'attempted abduction' of girl aged three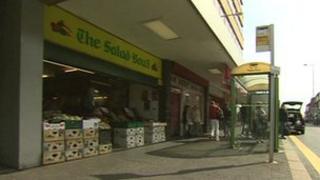 A man and a woman have been arrested on suspicion of attempted child abduction after a three-year-old girl was almost snatched from a busy Blackpool street.
Police said a couple had approached the girl outside The Salad Bowl shop on Topping Street at 14:20 BST on Tuesday.
A spokesman said the pair had tried to lead the girl away before her grandmother intervened.
An 18-year-old woman and a 22-year-old man from Blackpool have been arrested and remain in police custody.
Det Insp Becky Smith said there had "clearly been an attempt to pull the three-year-old away from her grandmother".
"Fortunately, the grandmother was very close to the child, turned round, realised what had happened and the two people then walked off," she said.
She said police wanted to speak to a woman who was outside the shop at the time of the incident pushing a pushchair, who she said was a "vital witness".