Preston Guild opens with float procession and festival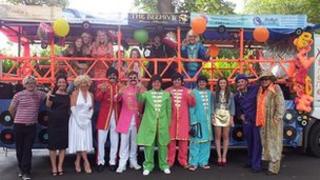 A float parade and festival have marked the official start of Preston Guild in the Lancashire city.
The day's events began with the singing of a Guild anthem and a speech by Lord Mayor Carl Crompton in the city centre.
The Guild has been held every 20 years since King Henry II granted Preston market town status in 1179.
The celebrations in 2012 last 10 days, which a spokeswoman said was "one to mark each year since Preston achieved city status".
The opening proclamation by the lord mayor also saw the return of a set of scrolls, which have been sent around the world for former residents of the city to sign.
The trade procession, which included 99 floats, was the first of four parades through the city for the Guild.
It will be followed by the Churches Procession on 3 September, the Community Procession on 7 September and the Torchlight procession on 8 September.
'All things northern'
The Guild Vintage Weekend, which runs on Saturday and Sunday in Avenham Park, has been curated by designers Wayne and Gerardine Hemingway.
The Guild spokeswoman said the event celebrated "the creative cultural past, present and future of all things northern".
She said that it included a tribute to the Guild of 1942, which was cancelled due to World War II.
She added that the "20-year gap was chosen in 1542, because this guaranteed that memberships were renewed at least once for each generation".
Preston's celebrations are the only Guild events still held in the UK.