Blackpool Illuminations switched on by Olympic medallists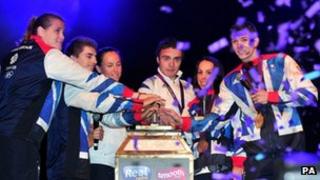 Six of Britain's Olympic medallists shared the switch-on honours in the Blackpool Illuminations' centenary year watched by 20,000 people.
Sophie Hosking and Max Whitlock joined Karina Bryant, Beth Tweddle, Greg Rutherford and Luke Campbell to flick the Illuminations switch.
For the lights' 100th year, the event was held on the headland beneath the Tower for the first time.
Illuminations manager Richard Ryan said the display was "modern and quirky".
New features include a Diamond Jubilee tram, the return of the rocket tram and a section featuring a haunted hotel.
A mile-long section cut last year to save money has also been restored.
Singers including Rick Astley, Little Mix, Amy Macdonald and Scouting for Girls performed at the switch-on concert.
Mr Ryan said last year's Illuminations were marred by the weather "but we've come back with a bang".
Over the next nine weeks, the lights are expected to draw millions of tourists to the resort.
They will shine nightly until 4 November.