Designer's plans for Morecambe's Polo Tower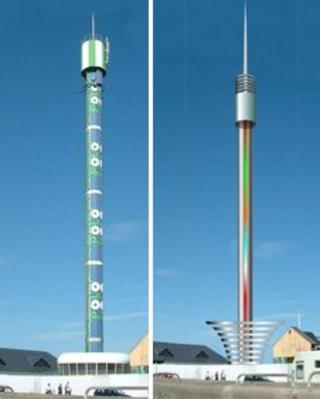 A designer from Morecambe has put forward plans to the town's council and the landowners to transform the Polo Tower into a hi-tech landmark.
The tower on the promenade is a remnant of the Frontierland Theme Park and now houses a mobile phone mast.
Robert Aitken wants to turn it into an "interactive digi-tower" which broadcasts images and messages with a digital telescope.
Landowner Morrisons is yet to comment on the proposals.
Mr Aitken said in his plans he would have slim television screens running the entire length of the tower clad in aluminium.
He said it could also have software to help wildlife watchers identify birds across Morecambe Bay.
Mr Aitken said the costs would not be high for the project.
"You have got the structure there so all you are doing is cladding it and paying for the IT... so it should be good value for money," he said.
Mr Aitken believed the new tower could become a landmark for Morecambe like Blackpool's famous tower.
Councillor Janice Hanson, cabinet member with responsibility for regeneration, said: "The city council welcomes anything which contributes to the debate on the future of the Frontierland site and the Polo Tower.
"This is a key site for the regeneration of Morecambe and the council will be publishing ideas over the next few months as part of the Morecambe area action plan."