Fracking 'invasion' trial begins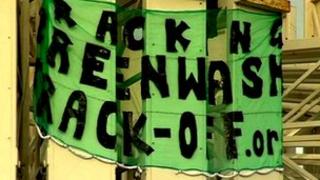 Protesters opposed to a gas extraction process called fracking halted test drilling when they invaded the site, Preston Magistrates Court has heard.
Three members of pressure group Frack Off attached themselves to a rig near Southport in November.
Barbara Anne Cookson, from Liverpool, Edward Lloyd-Davies and Lauren Pepperell, both from Brighton, deny charges including trespass and assault.
The trial of the campaigners is expected to last four days.
Ms Cookson, 61, of Garrick Street, is accused of aggravated trespass, assaulting a security guard and obstructing a person engaged in a lawful activity.
Mr Lloyd-Davies, 39, of Rugby Place, is also accused of the same charges, while Ms Pepperell, also of Rugby Place, is charged with trespass and obstruction.
The three were protesting at a site operated by Cuadrilla which was given a licence in 2008 to extract gas by pumping water, sand and chemicals into shale rock at pressure.
Frack Off alleges that the process is environmentally dangerous.
Security guard Patrick McKenna told the court he grabbed hold of Mr Lloyd-Davies who struck him with his arm, while Ms Cookson held on to his hand.
When he asked her why she was taking the action, he said she replied: "It is the principle."
The court was told only drilling to test rock samples was taking place at the Southport site.
Eric Vaughan, Cuadrilla's chief operating officer, said fracking was not a dangerous technology.
The trial continues.