Flooding in Darwen prompts car park wall collapse fear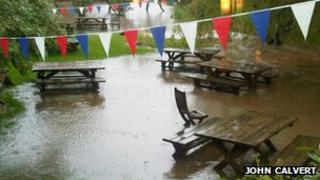 Commercial properties in Lancashire have been evacuated on the advice of police over concerns a car park wall could collapse due to heavy rain.
Businesses in Railway Road, Darwen, were advised the Knott Street car park wall was in danger of collapsing with the pressure of surface water.
The Environment Agency (EA) has issued two flood warnings in Darwen, which was flooded on 22 June, and in Whitworth.
An EA spokesman said those in warning areas should "take immediate action".
'Move pets'
Blackburn with Darwen Council, which has issued 2,700 sandbags since Thursday, said: "There has been heavy rain in the area but not as heavy as the rain that fell over the last two weeks."
Drivers parked in the Knott Street car park were asked to move vehicles so they are not in danger of being flooded.
Lancashire Fire & Rescue Service secured a rear wall in an empty building between Railway Road and Knott Street.
The areas expected to flood are the Hollins area of Darwen, between Bright Street and Clarence Street, Whitworth Elm Street, Daniel Street and Tong Lane, as well as the Whitworth Valley Football and Cricket Club in Rawstron Street.
An EA spokesman said: "People should take immediate action in the flood warning areas; they should move family, pets and valuables and turn off electricity and gas."
Festival postponed
As well as two warnings, there are 11 flood alerts issued across the county.
The Leyland Festival, due to be held on Saturday and Sunday, has been postponed because of the wet weather.
Thousands of people had been expected to attend the two-day event, which involves entertainment at Worden Park and a parade through the town.
Dave Pollard, from South Ribble Council, said it was hoping the festival would go ahead later this year, possibly in September.
The Leyland Live Music event is going ahead as planned.
Flooding has also caused the closure of Brierfield Library.