Morecambe prom plans resubmitted by Urban Splash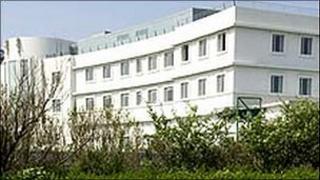 New proposals for the development of Morecambe's seafront have been submitted after five years of opposition from residents.
Developers, Manchester-based Urban Splash, want to redevelop the Central Promenade to house shops, restaurants, hotels and apartment blocks.
The firm previously submitted plans for the area in 2007 and 2010 but both were rejected following local opposition.
Councillor Evelyn Archer said the buildings were "still too high".
Urban Splash said the plans have been revised to include reductions to the height of accommodation blocks and a better layout.
'Dwarf the Midland'
The 18.5 acre (7.5 hectare) site is near the Midland Hotel, which was refurbished by the company in 2008.
In the revised plans submitted to Lancaster City Council, they said the scheme would "revitalise" the town and play a key part in its much-needed regeneration.
But Ms Archer argued: "The buildings are still too high, they will dwarf the Midland and that's an iconic building."
She has set up a stall in the Arndale Centre where the public can view the plans every day until July 23 - the deadline for the submission of comments on the proposals to the council.
"This is the most important planning application which will influence the town for many years to come, I just want people to be informed," she said.
Urban Splash's chairman, Tom Bloxham, said last year that the firm will invest in other towns if residents continue to oppose the plans.