Great Harwood vegetarian explains badger in freezer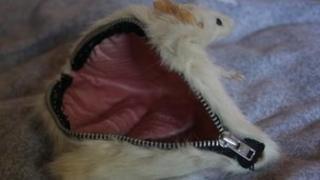 "Someone's just given me a badger, it's in my freezer," says 22-year old Nicola Hebson. "It's quite random really."
Miss Hebson, from Great Harwood in Lancashire, is talking of her unusual hobby - taxidermy - especially since she is a vegetarian.
She views it as "another way of recycling", using only animals that are already dead - from natural causes, road-kill - or, literally, something the cat dragged in.
Creations include putting a rat in a dress and turning another one into a fully-working purse.
"I don't know if people think it's a bit creepy, most people are fine with it, and it's just normal to me," she said.
'Like leather purse'
"Animals getting killed is something that's going to happen all the time, so we should use them.
"It's free and it's recycling. It's not harmful to the environment either and all the polystyrene which I use to put inside them is from skips."
Miss Hebson aims to combine her hobby with her work as a fine artist, for which she recently gained a degree from Blackburn College.
"I'd been interested in taxidermy from seeing other bits of work in galleries and then I saw a lot of road-kill and I just thought why is this being left to rot at the side of the road - I should use it," she said.
She taught herself the techniques, practising on a tiny mouse that was meant for snake food, before moving on to other projects.
"I made a fully-lined purse out of a rat," she said. "It's only the same as getting a leather purse out. Just because it's still got a face, it's still something that's died."
As well as working on cadaverous commissions - and a recent collection of jewellery from dead flies - Miss Hebson hopes to get an exhibition for her work.
"Ideally, I'd like to combine the two, doing the taxidermy and then painting from them, using them as still-life. It's much better to paint from real life," she said.
Miss Hebson, a member of the Guild of Taxidermists, collects animals on her travels and is increasingly being given them by other people.
'Nice handbag'
She puts them in the freezer while deciding what to do with them.
After thawing them out, she makes an incision down the back from the neck to near the end of the tail, and separates the membranes of skin.
"It is important to wire the insides so that it keeps its structure," she said.
She then stuffs the animal and sews it back up before adding finishing touches to the face and leaving it to dry out.
"I'm still not sure what to do with the badger though, because it's huge and would take a lot of stuffing," she said.
She paused, before adding "it might make a nice handbag."