Pendle Witch Trials hillside artwork plan rejected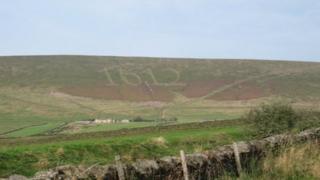 A plan by tourism chiefs for a huge hillside artwork to mark the 400th anniversary of the Pendle Witch Trials has been rejected by planning bosses.
Pendle Council commissioned Philippe Hanford to dye "1612" in 500ft (150m) by 1,400ft (475m) numerals on the hill.
The Bishop of Burnley who objected to the plan said it was "the right decision" not to celebrate the date.
Mr Hanford said: "I'm at a loss at the decision because it was only temporary and a fitting tribute to the witches."
Landowners around Pendle Hill had approved the artwork but the Barrowford and Western Parishes Committee, who make planning decisions for the area, voted against it at a meeting on Thursday.
'Dark period'
The artist, who is from Pendle, said: "The land art was an exciting and unique way of publicising the year of events being organised to commemorate the 400th anniversary."
"It would have been eye-catching but also thought-provoking to make people think about what happened on that date."
Mr Hanford said he still hopes the 1612 installation will go ahead.
"I am not giving up on the idea. I am in a meeting on Monday with the council's Pendle Witches steering group and I hope we can work out a way of doing it," he said.
The artwork was budgeted to cost £1,500 but he does not think that was the issue.
Mr Handford said: "I would be surprised if it didn't get the go ahead because of that because it's not a lot when you consider how much publicity it would have generated."
The Rt Revd John Goddard said: "It was a wise decision and I hope the council continues to look for other opportunities to celebrate our great area.
"[The Pendle Witch Trials] were a dark period of our history which was a matter of injustice."
Brian Cookson, executive director for regeneration at Pendle Council, said there is "plenty to see without the installation" including a new sculpture trail which opens this summer led by Mr Handford and the Pendle Witches Festival with "events from drama to exhibitions, walks and workshops".
The 1612 figures would have been visible for a maximum of three months on the Barley side of Pendle Hill.