Morecambe Football Club lift top pie awards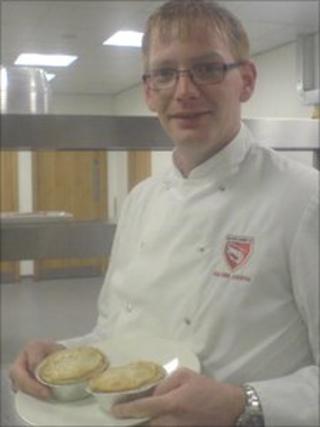 Morecambe Football Club may be mid-table in League Two but off the pitch its pies are the best in the game.
The pies have won four accolades in the British Pie Awards including Best Football Pie for its steak and ale pie.
More than 900 pies were entered in the event staged in Melton by the Melton Mowbray Pork Pie Association.
Head chef at the club, Graham Aimson, said: "We are very happy. It is awesome that we have improved on last year by winning even more awards."
The club also won a special award to recognise small producers as well as the vegetarian (butter pie) and other meat pie (pork, apple and cider) categories at the awards.
'Great recipe'
The Lancashire club won Supreme Pie in last year's British Pie Awards, the first year it entered the national competition.
The pies were scrutinised by a panel of 93 food experts.
The club sells between 800 and 1,200 pies on match days.
Mr Aimson, who has been working at the Globe Arena since 2009, said: "It's a good ratio to say we have attendances between 1,800 and 2,200 on average."
He said the secret of the club's champion pies was "a great pastry recipe" and only using good quality ingredients.
Morecambe FC is currently in 14th position in League Two.