Blackpool legend Jimmy Armfield to present FA Cup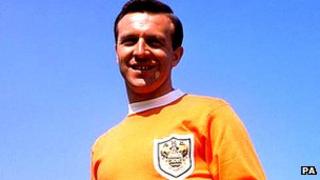 Former Blackpool and England footballer Jimmy Armfield will be presenting the FA Cup to this year's winners.
The Football Association said Mr Armfield, 76, who also managed Bolton and Leeds, will be chief guest at the Chelsea v Liverpool final.
"It will be a very special moment for me and it's a real honour to be asked," he said.
"I played at Wembley many times but an FA Cup Final under the Twin Towers always eluded me."
Mr Armfield, who played 43 times for England at right-back, was selected for both the 1962 and 1966 World Cup squads but said The FA Cup will always hold a special affinity for him.
'Biscuit tin stand'
"Presenting the trophy to the winning captain on 5 May is the closest I'll ever get to it now because I'm not quite the player I used to be," he continued
"I can still remember going to watch Blackpool against Manchester United in the 1948 final at Wembley Stadium.
"I went with my father and we got the early train down to London. We had a packed lunch in a biscuit tin and my little plan was to use that to stand on just in case I couldn't see over the top of the crowd on the kop.
"I can still remember walking up the steps at Wembley, as clearly as anything, and seeing these brilliant blue seats in the stand."
Mr Armfield was a colt with Blackpool when they won the famous 1953 "Matthews" final.