Bonsai trees worth £5,000 stolen in St Annes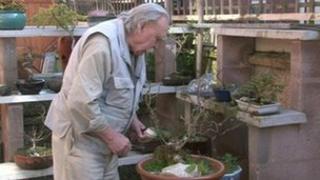 A collection of bonsai trees worth about £5,000 has been stolen from a pensioner's home in Lancashire.
About 25 trees were taken from 87-year-old Ron Sharples' front and back gardens in Denford Avenue, Lytham St Annes, on the night of 5 April.
It is believed the trees, at least three of which were worth about £1,000 each, may have been stolen to order.
Anyone with information about the theft is being urged to contact Lancashire Constabulary.
Mr Sharples has been collecting the trees since 1958 and had more than 40 of them in his collection.
'Zone of tranquillity'
Those stolen include a 3ft (0.9m) tall ginkgo biloba bonsai, a juniper bonsai and a Korean fir bonsai.
Also taken were a Chinese oak, a Chinese elm, a Chinese maple bonsai and a Huntington's elm bonsai.
Mr Sharples said: "You can't buy the years.
"There is a tranquillity about bonsai. The philosophy is good, never mind going to bingo or dancing or any of that.
"The zone of tranquillity that they create, that's what it's about."
Police said the trees were stolen sometime between 21:00 BST on 4 April and 09:00 the following day.
A spokeswoman said it would have taken several people to lift the rare trees from the gardens, due to their size and weight.
It is thought those responsible used a large van or similar vehicle to take them away.
Mr Sharples said: "I looked outside on Thursday morning and they had all gone."
"I don't expect the ones who have stolen it have got the conscience to do anything about it, but there might be somebody who knows them who has."
Anyone with information about the theft has been urged to contact Lancashire Constabulary.