Anglerfish on show at Blackpool aquarium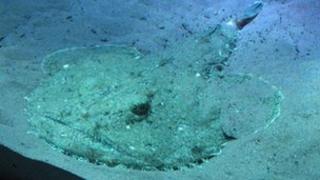 A rare fish which lives up to 1,000 metres below the surface has taken residence at an aquarium in Blackpool.
Sealife Blackpool claim it is the first aquarium in the UK to exhibit the deep sea anglerfish.
Senior aquarist at the centre Martin Sutcliffe said the fish are very difficult to keep in captivity as they have to be kept dark and at 11C.
He said: "We weren't sure what visitors would make of them as they are ugly looking but they have proved a hit."
The aquarium has taken receipt of four anglerfish which can grow up to two metres (6.56 ft) in length.
They have to be stored in separate tanks because their skin is very sensitive and even shrimps can scratch it.
Mr Sutcliffe said: "Very little is known about the fish as they are a deep sea animal which is why I think people are so intrigued by them.
"They are weird and wonderful things. They can eat mackerel whole - which are the same size as them - because their head is enormous. It is about 60-80% of their overall size."
"And they lure prey with a shrimp like bait and the other fish think it is food - but before they know it they are dinner."
He added: "Anglerfish have lots of sharp backward pointing teeth so once they catch prey there is no escape."