Live Preston Passion tells story of Christ's crucifixion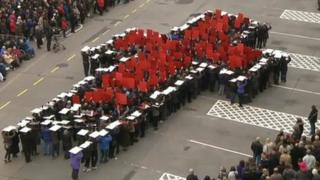 A contemporary retelling of the last hours of the life of Jesus has been televised live from Preston.
The Preston Passion combined live performance, music and pre-recorded drama, broadcast live from the city centre.
Fern Britton hosted the event and introduced three short pre-recorded dramas, shown simultaneously on a big screen in Preston and on BBC One.
All three dramas were filmed around the North West.
'Spectacle to feast on'
Documentaries were themed around the Passion of Christ, with inspiration drawn from the real lives of Preston residents, now and in the past.
The three documentaries culminated in a live extravaganza, featuring thousands of residents.
The production was directed by Mark Murphy who worked on Liverpool's 2008 Capital of Culture opening ceremony.
In addition to local choirs singing traditional Easter music, large-scale choreographed crowd movements across the city created "human crosses".
There were also contemporary dance pieces and traditional local brass band music.
To close Preston Passion's live programme of performance, Mobo award-winning singer Jamelia performed Candy Staton's gospel classic You Got The Love.
Britton described the performance as "very, very moving".
"There are so many different parts and all of us have been working on it individually, and then yesterday we saw it all come together and it's incredible."