New Blackpool tram derailed on first journey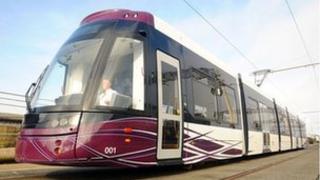 The first of Blackpool's new trams to set off from Fleetwood after a £100m upgrade has come off the rails.
Trevor Roberts, Managing Director of Blackpool Transport, said the derailment took place at about 05:55 BST near the Fleetwood Ferry.
The problem occurred one day after the tramway's official reopening with a new fleet of 16 computerised trams.
A stretch of track between Fleetwood Ferry and Fisherman's Walk in Fleetwood was temporarily closed.
Sand on the track had prevented the service operating. A Blackpool Transport spokesman said staff were keeping the sand at bay using brushes and trowels.
'Not good start'
The new trams have replaced the long-serving heritage vehicles, which will continue to run for tourists.
"Not a good start to the morning, the first tram out round Fleetwood Ferry has come off the rails," said Mr Roberts.
Earlier the sand was being blown into the tracks as fast as workers could clear it.
The four-year upgrade saw 11km (7 miles) of track replaced and a new tram depot built.
Its heritage fleet includes three trams which will be decked with coloured lights during the illuminations and an open top tram which Blackpool Football Club can use in the event of any soccer triumph.
The new articulated trams, built by Bombardier in Germany, are 32m (105ft) long and split into five sections. They can accommodate up to 150 passengers and will travel across 11 miles (17km) of coastline.
They have a more efficient acceleration rate than the previous trams and are expected to reduce some journey times by up to 15 minutes.