Work to restore Lancaster's Lune Aqueduct completed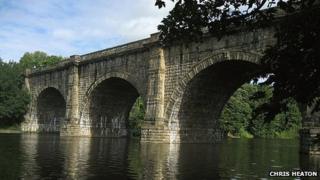 The £2.4m restoration of a 200-year-old Lancashire aqueduct has been completed.
Work to repair the Lune Aqueduct, which carries the Lancaster Canal over the River Lune at Lancaster, began in January 2011.
It has involved restoring the canal channel, removing graffiti, masonry repairs and improving public access.
British Waterways said the work would "safeguard this important piece of heritage for generations to come".
The work was funded by British Waterways, Lancaster Canal Trust, English Heritage and the Heritage Lottery Fund.
'Truly magnificent'
Steve Higham, of British Waterways, said that the repair work would be followed by "environment enhancements including the creation of habitats which will attract an array of different wildlife".
He said it would provide "the final piece of the jigsaw to open up this truly magnificent structure, creating a nature corridor for all to enjoy".
The environmental work will include planting new trees and hedgerows and the creation of two large and shallow temporary bodies of water to encourage amphibians and dragonflies.
Twenty new bird and bat boxes will be added to "compensate for tree loss while the site is maturing" and a two-acre wild flower meadow will be seeded on the south east embankment.
Designed by John Rennie and constructed by Alexander Stevens, the aqueduct consists of five stone arches supporting a 600ft (183m) stone trough.
It took three years to build and was completed in 1797 at a cost of £48,321.
This amount exceeded the original estimate of £18,619 to such an extent that a corresponding aqueduct over the River Ribble was never built.