BAE Systems' £150m F-35 plant opens in Lancashire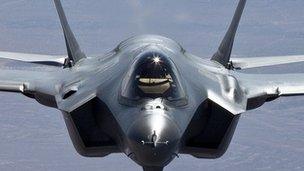 BAE Systems is to open a new £150m facility later to increase US F-35 jet fuselage production by extending its site in Samlesbury, Lancashire.
The new section enables workers to produce a fuselage every day compared with the current one-a-week rate.
Chris Allam, Senior Vice President on the F-35 programme, called it "an exciting development".
Earlier this month workers at Samlesbury voted to lose a day's pay each month to help save jobs
Mr Allam said: "F-35 is an important programme for BAE Systems and the capabilities that this facility provides are equal to anywhere in the world.
"We're using state-of-the-art machines and manufacturing techniques to ensure we can meet the rates of production that the F-35 programme demands."
Martin Wright, chairman for the North West Aerospace Alliance, welcomed the development: "The F-35 programme is the largest defence project in the world and through BAE Systems will be the backbone of stability to our regional industry through those companies successful in winning F-35 contracts."
In December, BAE Systems lost out on a £5.1bn deal to supply jets to Japan, and it is set to lose a contract for the Indian Air Force.
The Indian government has chosen a French fighter produced by the Dassault company.
Related Internet Links
The BBC is not responsible for the content of external sites.