Duke of Lancaster's Regiment's Arctic charity expedition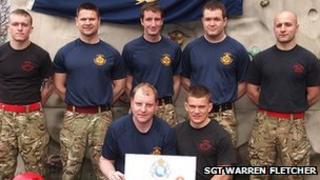 A team of soldiers from the 2nd Battalion The Duke of Lancaster's Regiment are leaving Lancashire for a charity expedition in the Arctic.
The group of seven are leaving Weeton Barracks, near Blackpool, to try and conquer four unclimbed mountains in the east of Greenland.
The region, called Liverpool Land, is home to mountains up to 1,400m (4,600ft) high.
The trip, raising funds for the Cystic Fibrosis Trust, will take three weeks.
Expedition leader, Sgt Maj Adam Diver, said: "We've been preparing for quite a few months now. We're all mentally and physically fit and we've all been on expeditions before, so I think we're all well prepared.
"We will be travelling to Iceland and then on to Liverpool Land where we will meet guides and pick up the kit we need, including rifles which will protect the team from polar bears.
"We then plan to take snow bikes into an area central to the range where we can set up a base camp."
Sgt Maj Diver said the team were planning to unofficially name the peaks while they are there.
He said one will be called Brandon, after 9-year old Brandon Beech from Chorley, who has cystic fibrosis.