Burnley second best in North West for 'growth potential'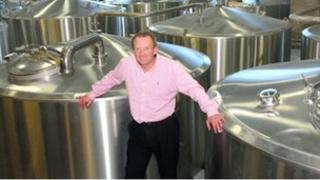 Burnley is the second best place in the North West for the proportion of businesses with high potential, BBC commissioned research has found.
It only trails Halton in Cheshire for companies which are seen to have good prospects for the future.
There are more than 4,000 companies in Burnley, of which 542 have been identified as business "champions".
Experian, who carried out the research, found several key characteristics these high growth businesses shared.
Companies with less than 50 employees, who started trading less than 10 years ago had the highest probability of becoming a "champion".
Moorhouse's Brewery, on Accrington Road, has recently experienced growth following a £4.2m expansion.
The company employs 38 full and part-time staff, with 35 from East Lancashire.
David Grant, managing director of Moorhouse's, said: "Our production capacity was 320 barrels of beer a week, we just couldn't do any more.
"We could have either sat back and continued as we were, or pushed forward and invested during a difficult economic time."
He added: "We can now produce 1,000 barrels a week, or 15 million pints a year, and we've seen a 22% increase in turnover in the past four months."
'Positive outlook'
The brewery is a member of a bondholder scheme which aims to bring local businesses together and help promote the image of the area.
The group was started three years ago and has about 80 members in Burnley.
Kevin Keith, bondholder manager, said: "It started as a response to wanting to do something about how the town was often being perceived.
"The scheme doesn't have followers, it has leaders who want to champion the area and have a confidence in the area in general.
"We were seeing a really positive outlook in the town, but this wasn't being reflected in the media."
During the research, company involvement in some form of international activity was highlighted as a key component to growth.
A telecommunications company recently decided to move one of its call centres from India to Lancashire, due to increased costs.
New Call Telecom transferred part of its business to Mumbai for three years, but returned to the UK in 2011.
Nigel Eastwood, chief executive of New Call Telecom, said that after adding up the costs it was worth relocating to Burnley.
He said: "As a small business, for me it's an ideal golden opportunity to create and develop it in East Lancashire, and I feel privileged to have been able to do that.
"We wanted to deliver what the customers were asking for and that's to be served in the UK."
Mike Damms, chief executive of East Lancashire Chamber of Commerce, said: "To be successful in the world of commerce, you need to have an agile business.
"Quite a few small companies are doing well in Burnley as they are the most agile, and often fill a specific niche in the market."