Third nuclear power station at Heysham plans on ice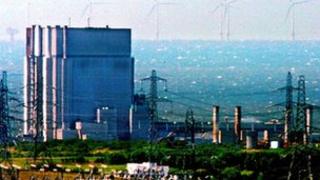 Plans for a third nuclear power station at Heysham in Lancashire have been put on ice.
French company EDF Energy has cancelled an agreement with the National Grid to set up any new connection to the grid from Heysham.
The site was one of eight earmarked two years ago for a new generation of nuclear power stations.
EDF Energy said all its plans for new stations will be focused on their sites at Sizewell and Hinkley Point.
The company which operates two plants at Heysham said it had no plans to take the so called "Heysham 3" option.
A company spokesman said: "It is important to note that our initial new build plans as a company remain focused at Hinkley Point and Sizewell."
He added: "This does not stop us from approaching National Grid for a similar connection offer for any planned future build at Heysham."
EDF had been obliged to sell land near one of its nuclear sites as part of European Commission competition rules.
At one stage it looked like land at Heysham would be sold but the company has now sold land in Anglesey.
National Grid is reviewing its plans for connecting new generators along the North West coast following EDF's decision and the cancellation of a proposed gas-powered plant at Thornton Cleveleys near Blackpool, operated by Wyre Power.
Peter Fendley, National Grid Senior Project Manager said: "The cancellation of the two agreements in Lancashire means from that we now have fewer generators to connect and a reduced amount power to export from the North West."