Crews tackle Nelson coffin factory fire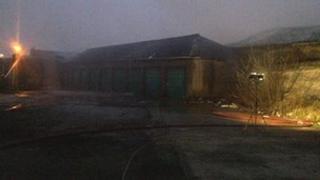 More than 50 firefighters tackled a large fire which broke out at a factory in Lancashire.
Fire crews were called to the Walter Lambert and Sons coffin manufacturers site on Edgar Street, near Leeds Road in Nelson, at about 03:10 GMT.
A row of about 12 terraced houses on Leeds Road were evacuated for a short time until crews managed to get the fire under control.
Leeds Road has been closed between Poplar Street and Fulham Street.
A spokesman for Lancashire Fire and Rescue Service said crews remained at the single-story factory, which is a former mill, at 08:00 GMT.
No-one was hurt in the blaze and an investigation into how it began is under way.