Lancashire museum commemorates county's Titanic links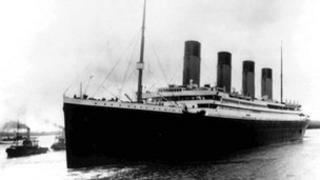 Staff at a Lancashire museum are racing to research every Lancastrian Titanic passenger and crew member.
They want to collate the data before the centenary of the liner's sinking on 15 April 2012.
Nigel Hampson, Director of the Titanic in Lancashire Museum, said the project was inspired by its bandmaster Wallace Hartley who was from Colne.
So far staff have found more than 80 people from the county who were on board the ill-fated ship.
"As a collector of Titanic memorabilia, I started to realise that our county has many more Titanic connections," said Mr Hampson.
"I opened the Titanic in Lancashire Museum last year to share my growing collection and make the links."
He added: "To date we've found over 80 people from Lancashire who were on Titanic or who were connected to the liner and each week we uncover more."
Staff at the Colne-based museum are using the county's historic borders, which included Liverpool and Manchester.
"I think we'll reach a hundred by the centenary," said Mr Hampson.
The team started working through the crew lists, first class passengers and are now halfway through the second class followed by the third class.
"I'm also intent on setting the record straight about people like Bruce Ismay [White Star Line Chairman, who was criticised for surviving his own ship's sinking], who've been treated very unfairly. That's what makes the museum unique," he said.
Councillor Jonathan Eyre, who leads tourism for Pendle Council said: "I'd like to thank Nigel and his team for all their hard work towards what will be an amazing Titanic Festival for Pendle Borough."