Blackpool FC chairman defends £11m Owen Oyston payout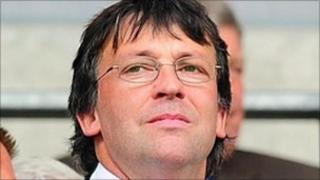 Blackpool Football Club chairman Karl Oyston has defended an £11m payout from the club to a company owned by his father Owen.
The chairman said the money would still be available to the football club if it was needed.
Businessman Owen Oyston bought the club in 1987 when it was in Division Three - last year Blackpool spent one season in the Premier League.
Some supporters argue that the cash should have been spent on the team.
Accounts for 2010/2011 reveal that the money was paid to a company called Zabaxe Ltd, which is owned by Mr Oyston senior, at a time when the club was relegated on the last day of the season by a slender margin.
"Supporters will want to know how it can be that in a season when the team only got relegated by one point that the money can be used for this purpose rather than for strengthening the team," said Malcolm Clarke, chairman of The Football Supporters Federation.
But Karl Oyston said: "My father has always been prepared to back Blackpool Football Club to whatever tune.
"My father's record speaks for itself having been involved with Blackpool for 25 years and having saved it from extinction."
Mr Oyston said the money had been paid on the guidance of the club's tax advisers and that the payment was a "sensible and well thought out strategy in the interests of both companies".
He added: "If I need to call on that money for infrastructure projects or any requirement of the football club then I could do so, just as I have been able to do so in the 12 years I have been chairman.
"We do try and run the club as a sustainable business rather than a benefactor-led business like many football clubs and that's why many football clubs - at least 60 - have been in administration in my time."
But fans are sceptical.
Message boards on supporter websites have been inundated with comments and while some say that without the Oystons they would probably have no club, others argue that Karl Oyston should be spending money on a new training ground, under soil heating and a stronger squad.
They argue that a lack of investment in infrastructure also deters some players.