London 2012: Churches urged to get involved with the Olympics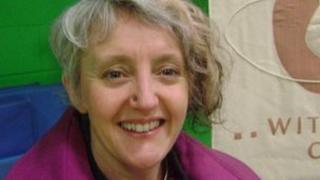 Churches in Lancashire have been urged to get involved in "once in a lifetime opportunities" offered by the 2012 Olympics.
They have been asked to be at the forefront of the voluntary help that will be required when the Olympic torch travels through Lancashire in June.
Ish Lennox, from the Methodist church, said people would be travelling the length and breadth of the UK.
"Let us make sure there is a warm Christian welcome for them," she said.
Ms Lennox is heading up the Methodist church's involvement in the Olympic and Paralympic games.
Speaking at a conference in Leyland she said: "We are going to have the world come to our nation. It's a wonderful opportunity to serve the local community.
Celebration planned
"We are not asking people to compete, we are asking the church to compliment what's already being done locally."
Thousands are expected to gather in Blackpool for Lancashire's big Olympic night out on Friday 22 June.
A celebration is planned for the torch at the newly opened Tower Festival Headland on the promenade opposite Blackpool Tower.
Churches have also been asked to hold their own big screen events to show the major Olympic contests.
The Olympic Torch is set to be in Lancashire for three days in June. Initially it will travel through Chorley and West Lancashire.
It will return later through towns and villages of north Lancashire and the Fylde before finally exiting the county via east Lancashire.
Ms Lennox said it is a massive opportunity which they need to get right.
She said: "The church is very good at doing one thing, that's being where other people aren't, so what I am saying is let's make the most of this.
"Folk in this country are going to be out watching the Olympic Torch. They are going to be watching big outdoor screens. It's the first time that every moment of every event is going to be screened and you can have that in your church where people can come and watch the games with you."
The church's idea is to underpin community events by showing they are about play as well as prayer.
Ms Lennox said: "It's a great opportunity to be where other people will be and show that your church is a vibrant beating heart within that community."
"Please start praying now. Pray for people to have a safe fun experience. Pray for doors to be opened and local links to be forged with our councils and the local authorities.
"Let them know the church is here to serve."
Joe Wilson presents the faith programme on BBC Radio Lancashire from 06:00 each Sunday.