Blackpool Tower Leap Year marriage proposal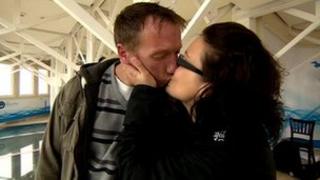 Simon Dunkerley received a Leap Day shock from more than 500 ft (150m) as he looked down on Blackpool beach from the resort's famous tower.
His girlfriend had arranged for her friends to write a massive "Marry Me?" in the sand.
Following the Leap Year tradition of women proposing marriage, Sharon Fuller popped the question.
And Mr Dunkerley was only too delighted to accept. He said: "I'm overwhelmed, I thought it was for somebody else."
Miss Fuller, from Lytham, managed to trick her boyfriend to go up the tower early in the morning, supervising the beach message via walkie-talkie radio.
"It's been a nerve-wracking few weeks planning it all," she said.
"I'm so glad he said yes."
She added: "The story I gave him was that we were getting in the car and there was a bit of a surprise, he just didn't have a clue."
Mr Dunkerley, also from Lytham, said: "I was quite surprised to see 'marry me' written on the beach."
However, the couple say their wedding might be less spectacular.
"We'll probably go to Gretna Green for a quiet wedding," said Miss Fuller.