Morecambe Bay NHS Foundation Trust boss quits job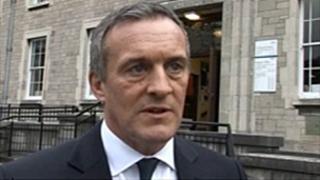 The chief executive of an NHS trust which is being investigated over the deaths of seven babies is to resign.
Tony Halsall, a former nurse, has been in charge at University Hospitals of Morecambe Bay NHS Foundation Trust since 2007.
Deaths at the baby unit at Furness General Hospital, in Barrow, Cumbria, are being investigated by detectives.
Health regulators have also criticised standards at Royal Lancaster Infirmary's A&E unit.
"This has been an extremely difficult time for me personally and professionally," said Mr Halsall.
'Great antipathy'
His statement added: "I believe that considerable progress has been made in recent months to address a number of issues the trust faces, but I recognise that it is now appropriate for the lead to be taken by a new chief executive."
The trust' s interim chairman Sir David Henshaw said Mr Halsall had led the trust through difficult times, adding: "He has often found himself in the position of taking responsibility for issues when others should have been alongside him."
Barrow and Furness Labour MP John Woodcock said it was only a matter of time before Mr Halsall resigned.
He added: "I understand why many who have been badly let down by the trust feel great antipathy towards the man at the top, particularly grieving families who have found it so hard to get justice.
"For my part, Tony Halsall has always struck me as genuine in his commitment to the health service, but the failings he has presided over make his departure inevitable and right."
'Red rating'
Earlier in the month Monitor, the regulator for NHS foundation trusts, said the trust would be "red rated" until further notice.
Monitor appointed clinical experts to review maternity services at Morecambe Bay NHS Foundation Trust in October 2011.
The maternity unit is at the centre of a police investigation into the number of infant deaths there - reportedly at least seven.
The investigation followed the inquest last year into the death of Joshua Titcombe, of Dalton, nine days after his birth at the hospital in October 2008.
'Significant concern'
It ruled in June that Joshua died of natural causes but midwives had repeatedly missed opportunities to spot and treat a serious infection.
The Royal Lancaster Infirmary has been warned by the Care Quality Commission (CQC) that its A&E unit could be closed unless standards improve by 16 March.
The CQC decision followed an unannounced inspection in December which identified issues of "significant" concern in A&E.
The trust's deputy chief executive and director of finance, Tim Bennett, will act as chief executive for the next two weeks after which Sir David will announce the name of the new interim chief executive.