Disability hate crime 'shouldn't be tolerated'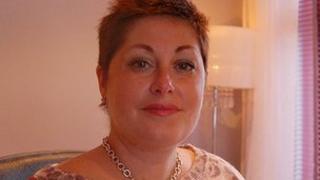 A few years ago, Beccy Oughton was assaulted in a Lancaster nightclub by a woman who said she did not need to be in her wheelchair.
"It happens so many times, I didn't go to the police," said Mrs Oughton, from Caton, Lancashire.
"I just thought, this is part of what it's like to be disabled and I've got no right to report it."
Mrs Oughton, who has limb girdle muscular dystrophy, is now part of a campaign calling for other people with disabilities to go to police if they are abused in similar ways.
A report by the Muscular Dystrophy Campaign's Trailblazers group - Under Investigation - said two out of three young disabled people surveyed had been taunted or verbally abused because they are disabled.
The charity's campaign is now calling on all police authorities to treat hate crimes in the same way, and to make it easier for people with disabilities to report them.
'Civilised society'
"Across the nation people put up with varying degrees of abuse, and people don't feel able to contact the police because they don't feel it's going to be taken seriously," said Mrs Oughton.
"We need to get the point across that it shouldn't be tolerated."
Bobby Ancil, project manager of the Muscular Dystrophy Campaign Trailblazers, said it was "disturbing" that in 2012 young disabled people were still facing this kind of abuse.
"Many of those who tell us about incidents of unprovoked abuse and threatening behaviour have no idea that they have been victims of a hate crime in the eyes of the law," he added.
"People feel that attacks have to be sustained and physical for the police to take them seriously, and that sadly, day to day intimidation and verbal abuse must just be tolerated."
Ch Insp Steve Sansbury from Lancashire Police said targetting disabled people in this way was "just not acceptable in a civilised society".
"If you're targeted, you should be able to report it because you shouldn't tolerate it," he said.
"Until we start holding people to book for their actions and their attitudes towards people who are slightly different, society doesn't move on and we don't change people's attitudes and behaviour."
Mrs Oughton added: "Lancashire Constabulary have put a huge amount of work into making disability hate crime easier to report.
"They've done training with their staff to make sure it is taken seriously, and I would be more confident to go to the police now to report a crime or a hate incident that had happened against me."