BAE Eurofighter: Warton and Salmesbury 'no direct job losses'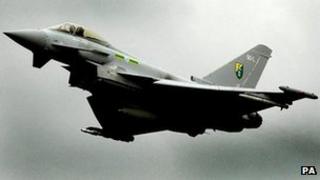 A Lancashire MP says he has been told no jobs will be lost at BAE Systems factories there if the company loses a $10bn (£6.3bn) contract to supply Eurofighter jets to India.
Mark Menzies, Conservative MP for Fylde, said he "had assurances by BAE" there would be no "direct job losses".
BAE Systems had planned to partly assemble 126 Typhoon jets for India at plants in Warton and Samlesbury.
But India's government said it planned to buy cheaper French Rafale jets.
Jobs under threat
Both BAE Systems and French company Dassault had bid for the contract to supply the Indian Air Force.
Mr Menzies is among a group of MPs meeting David Cameron later to "reiterate the importance" the Eurofighter has to the region.
He said: "We want to drive home to him that everything must be done even at this late stage to secure this order.
"The deal is very important, not just for the export potential of this aircraft, but also for the jobs and the skills we have in the North West."
The Eurofighter Typhoon is built by the German and Spanish branches of European aerospace giant EADS, Britain's BAE Systems and Italy's Finmeccanica.
BAE Systems announced plans to cut 1,400 jobs in Lancashire and up to 900 at Brough in East Yorkshire in September.
In January the firm said more than half the 1,400 jobs under threat at BAE Systems in Lancashire had been cut without compulsory redundancies.