Victorian reservoir in Clayton-le-Woods 'may be lost'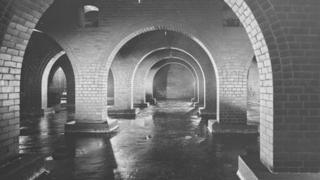 Plans to sell land above an underground Victorian reservoir in Lancashire could mean losing a "historical gem".
The brick-vaulted Clayton reservoir is under land in Back Lane, Clayton-le-Woods, which is being auctioned by United Utilities on 22 February.
Chorley Historical Society's Rosemary Boyd said she would "hate to lose this piece of Victorian architecture".
A spokesman for United Utilities said it was a "fairly common design".
The reservoir, built in 1884 to provide water storage for Leyland, was decommissioned 20 years ago.
Ms Boyd said: "We would love to find the funding to save the reservoir but it is very difficult to apply for funding when you don't know how much you need.
"It is a shame because it is a wonderful opportunity for children from local schools to see Victorian architecture.
"It is the oldest and last surviving example of a brick-vaulted reservoir construction in the area."
The society has applied twice to have the reservoir listed by English Heritage but was refused.
Planning permission for residential development has been approved by Chorley Council.
United Utilities said: "Ecology and heritage issues were explored thoroughly as part of the planning application.
"The process also included public consultation with residents and the local parish councillor in the summer of 2010 when the intentions to sell the site were clearly outlined."