British Naturism Club holds event in Blackpool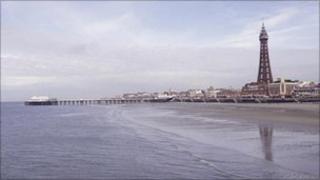 Members of the British Naturism Club are in Blackpool for one of their biggest gatherings of the year.
More than 140 naturists will be in the resort this weekend. It is the third time it has been held in Blackpool.
The Bond Hotel in South Shore is hosting the gathering and nudity is permitted there all weekend.
Some of town's tourist attractions - such as the Sandcastle waterpark and Bierkeller - are closed to the public for private parties for naturists.
Andrew Welch, commercial manager of the British Naturism Club, said: "The event is so popular we have sold out the venue and we're had to stay at another hotel too.
"We're not anti-clothes - it's just sometimes they're not necessary."
He added: "We'll be just doing ordinary things that people would do with their clothes on but enjoying it even more without [them]."