Blackburn's Victorian underground tunnel revealed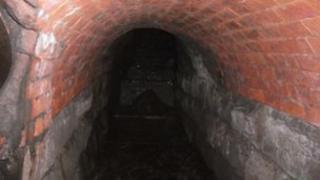 A Victorian tunnel in Lancashire which had been sealed for decades has been opened up by engineers.
The tunnel, which runs under Blackburn town centre, has been reopened as part of a £35m works scheme to improve the town's sewerage system.
The brick-lined Victorian sewer, dubbed the "Tunnel of Love" by engineers, is only accessible by wooden rowing boat - much like the romantic fairground ride at Blackpool Pleasure Beach.
Project co-ordinator at United Utilities Brian Jenkins said: "It has many parallels - it's the same shape, it has water running through it and you have to use wooden boats to inspect and maintain it.
"What is less romantic is the lack of oxygen, the smelly gases, because there are some sewers running in and of course there are the rats."
Workmen can only access the tunnel, which was built during Lancashire's industrial heyday, via wooden rowing boats as motorised vessels risk sparking an explosion in the methane-filled interior.
'Old things best'
The structure, which runs 10 metres below Dickens Street, was originally built to take water away from the mills in Blackburn town centre.
Engineers are now working to increase the size of the sewers, to prevent sewer spills polluting the River Darwen, River Blakewater and the Leeds-Liverpool canal.
Mr Jenkins added: "We are creating a storm detention tank - basically a tank which can hold 2.5 million litres of storm water which then directs the water back into the sewerage systems."
"We need to make sure things are safe and one of the things that is safe down there is the old wooden boats.
"Sometimes it doesn't do for taking new equipment down there. Sometimes the old things are the best things and in this case they are."