Parents of woman hurt in Australia quad bike accident face bill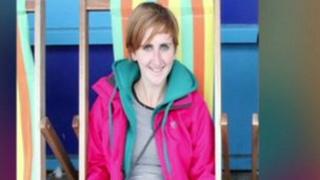 The parents of a 23-year-old Lancashire woman may face huge medical bills to bring their seriously ill daughter home from Australia.
Holly Raper, from Chorley, was badly hurt in a quad bike crash on 30 December doing a year's work experience on a Tasmanian farm.
Her family say her travel insurance company class quad biking as an extreme sport and will not cover costs.
Columbus Insurance said her policy did not cover the work she was doing.
The university graduate has been in a coma since the accident.
She was herding cows on a quad bike when she fell off.
Her father Chris Raper has returned home to arrange for her to be treated on the neuro rehab ward at the Royal Preston Hospital while Holly's mother, Elaine Raper, remains in Tasmania.
"Everybody is hoping for the best but no-one knows exactly where she will end up. The longer she's unconscious the worse her prognosis will be," he said.
Mr Raper said he was angry at the travel insurance company, Columbus Insurance.
'Buyer beware'
He added: "Their rebuttal of the claim is just another layer of stress added to the worry of Holly being in a coma."
"It was part of her duties on the farm - it wasn't a sporting activity.
"It's a case of buyer beware. Most people do not read the small print of insurance policies."
The couple's solicitors are currently involved in the complaints procedure against the insurer, but the repatriation could cost more than £100,000.
About £13,000 has been raised at the Cavendish Arms in Chorley, where Holly worked.
The Foreign Office confirmed it was working with the Raper family and "offering them consular assistance at this very difficult time".
A spokeswoman for Columbus Insurance said the company was "shocked and saddened" by the accident and had "offered all possible assistance".
"A travel insurance policy was purchased on Holly's behalf, but the policy clearly states that it does not cover any manual work of the kind Holly was undertaking when she was hurt, nor does it cover the riding of quad bikes," she said.
"This means that, unfortunately, we are unable to guarantee any medical costs nor any costs to return her to the UK.
"We continue to work with our insurers and the medical team, but our main focus at this time is to assist the family wherever we can to improve Holly's recovery and to stabilise her condition sufficiently for her to be able to fly home."