Blackburn Rovers boss in fans 'smear campaign', claims MP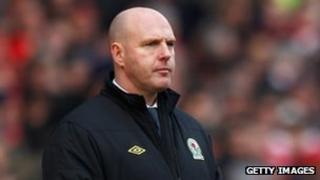 Blackburn Rovers manager Steve Kean has been accused of launching a "smear campaign" against fans by an MP in Parliament.
Labour MP for Haslingden and Hyndburn, Graham Jones, made the remarks in a ministers' debate on football governance on Thursday.
He also said the club was a "shambles" under Indian owners Venky's in the Westminster Hall debate.
A spokesman for the Premier League club said it had no comment to make.
There have been long running protests by fans over the running of the club since Venky's bought Blackburn in November 2010 with much of the anger directed at Kean in the owners' absence.
Mr Jones, a Rovers season ticket holder, said Kean had launched a "destructive smear campaign" at the clubs supporters.
He also questioned whether the owners were "fit and proper persons" to run the club amid increasing debts, protests by supporters and poor performances.
Foreign ownership
He told the debate the club was a "in a sorry state" and called on the Premier League to intervene.
"Serious questions now have to be asked about the owners' ability to manage an English Premier League club; their awareness of Premier League rules; their future intentions for the club; whether foreign business practices bring the club into disrepute; and whether such practices should be prohibited within the framework of the Football Association Premier League's fit and proper persons test," he said.
"The Premier League is culpable in allowing the current trend of foreign ownership to continue without suitable safeguards."
He added: "What has been destructive in this spiralling vortex is a smear campaign by the manager, his agent and other clients, aimed at ordinary Blackburn Rovers fans who seek only constructive dialogue with the club.
"To my knowledge, there have been no arrests or public disorder during the protests.
"The protests were suspended for seven matches to facilitate positive discussions, but those discussions have not taken place.
"Three pre-arranged meetings between the manager and organisers have been cancelled by the manager or by the club, the authority over which lies with the manager."
However, a number of managers have condemned the treatment of the Blackburn boss by fans including Sir Alex Ferguson.
On the barracking by fans during Blackburn's 2-1 defeat to Bolton in December, Ferguson said: "I have never seen anything as bad.
"For goodness sake, give the lad a break."
The League Managers Association also issued a statement after the game which said: "The aggression and abuse over recent weeks has stepped well beyond the mark."
The Select Committee presented its report on football governance at the debate. The inquiry was designed to assist supporters in having more say in the running of their football club and concern over the state of the game.
Blackburn Rovers are currently second from bottom in the Premier League.
The Premier League said they would not respond to Mr Jones's comments.