Cameron not doing enough to help BAE workers, says Lancashire MP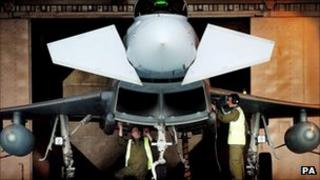 A Lancashire MP has accused the prime minister of not doing enough to rescue BAE Systems' bid to build Eurofighter jets for the Indian Air Force.
BAE was hoping to partly assemble the 126 Typhoon jets at Warton and Samlesbury.
Last week, India's government said it planned to buy less expensive Rafale jets from French company Dassault.
Preston MP Mark Hendrick said David Cameron could do more to help, but Mr Cameron said the deal was not yet done.
Although the Indian government has said it is in final talks with Dassault, BAE Systems said it had not been officially notified of the development.
'Unite parties'
Speaking in the House of Commons, Mr Hendrick said: "The people of Preston are furious that the Indian government have selected a French company as the preferred bidder for the Indian Air Force jet.
"The prime minister goes on repeatedly about rebalancing the British economy. This is a major blow to manufacturing in this country.
"Other European leaders can go and help, their companies get major contracts, why is this prime minister not doing that, and why haven't we got this contract with the Indian government?"
Mr Cameron replied: "I am very disappointed by what has happened in India, but Eurofighter is not out of the contest, and we need to reengage as hard as we can to make sure that we get the best deal for all those workers in Britain who make Eurofighters.
"Instead of shouting from a sedentary position, I think this is something that ought to unite parties in this house, getting behind our great defence producers."
BAE Systems announced plans to cut 1,400 jobs in Lancashire and up to 900 at Brough in East Yorkshire in September.
However, the firm said in January that more than half the 1,400 jobs under threat at BAE Systems in Lancashire have been cut without compulsory redundancies.
The Typhoon is built by the German and Spanish branches of European aerospace giant EADS, Britain's BAE Systems and Italy's Finmeccanica.
The Eurofighter lost out in December on an $8bn deal to supply jets to Japan.