Morecambe Bay NHS Foundation Trust 'red rating' continues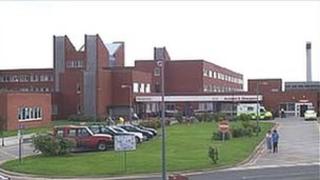 An independent regulator has intervened for a second time in the running of a Cumbria and Lancashire hospital trust.
The regulator, Monitor, appointed clinical experts to review maternity services at Morecambe Bay NHS Foundation Trust in October 2011.
It followed the deaths of a number of babies and mothers at Furness General Hospital in Barrow-in-Furness.
The watchdog has installed an interim chair and said the trust would be "red rated" until further notice.
Sir David Henshaw, chair of Liverpool's Alder Hey Children's Hospital, has been temporarily appointed to "drive the recovery of the trust".
'Recent failings'
Monitor said the Morecambe Bay Trust, which runs hospitals in Barrow, Lancaster and Kendal, "continues to be in significant breach".
It said that its concerns about governance and leadership at the trust had been "reinforced by the findings" of reviews into maternity services and overall governance.
The watchdog has told the trust to appoint a turnaround director to lead a recovery plan as well as an interim chief operating officer to run the day to day affairs of all its hospitals.
The trust, which is responsible for patient care at Furness General Hospital in Barrow, came under the spotlight after a number of deaths inside its maternity unit.
Labour MP for Barrow and Furness John Woodcock agreed that tough action was needed.
"Improvements are being made in the maternity unit at Furness General and in other areas, but these hard-hitting findings from Monitor show that systemic management problems remain a block to patients getting the first class standards they expect and deserve.
"People want to be proud of their local hospitals but multiple failings in senior management have let too many patients down over the years and made it more difficult for hardworking staff to do their jobs."
On Friday the Care Quality Commission said the Royal Lancaster Hospital's A&E unit had a month to improve or risk closure.
Tony Halsall, chief executive of Morecambe Bay NHS Foundation Trust, said the trust had "been working hard" to address the issues and "considerable progress" had been made.
He continued: "I would once again, like to apologise to anyone who has suffered as a result of the trust's recent failings and to thank every member of staff for their continued hard work and commitment at a time that is difficult for everyone."
David Morris, Conservative MP for Morecambe and Lunesdale said he would be discussing the latest review with the health secretary, Andrew Lansley.