Wyre Estuary gas storage plans by Halite Energy opposed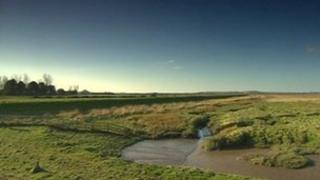 Proposals to build the UK's largest underground gas storage facility in Lancashire would be "destructive" to the environment, campaigners have said.
Halite Energy plans to build the underground store on the Wyre Estuary site near Preesall. The company said it is a "well tested mature approach".
Howard Phillips from Protect Wyre said it would put "people's safety at risk".
A public consultation on the plans, the fourth application in 10 years, will end this week.
The storage facility would consist of 19 salt cellars created over 1,000ft (305m) underground which could store about 20% of the country's gas reserves.
Nick Taylor, communications director for Halite Energy, said: "Virtually everything we do is underground and anything we do above ground will be carefully blended into the environment.
"These facilities have been around for about 50 years. There are four in the UK and 70 worldwide.
"There has never been an incident of an escape of gas or anyone hurt at these locations when they've been built in the UK."
Howard Phillips from Protect Wyre, which is opposed to the plans, said: "It is putting people's safety at risk.
"We are very concerned about storing vast quantities of gas in this area."
Previous applications for the site made by Canatxx UK, which has since reformed as Halite Energy, were rejected.
The last proposal in 2010 was opposed by more than 8,000 residents who signed a petition against the plans.