Preston Passion broadcast on BBC One for Guild 2012 festival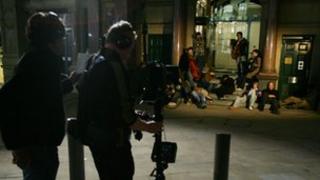 A live contemporary re-telling of the Passion story will be shown live from Preston on BBC One this Easter.
The Preston Passion, set in the city centre on Good Friday, will include live performance, music and drama.
Linked to the city's Preston Guild 2012 festival, the show will feature local volunteers performing as part of a choreographed crowd.
The Passion tells the story of the last hours of the life of Jesus leading up to his crucifixion.
'Live spectacle'
Stella Hall, the festival's director, said they were looking for "a thousand volunteers" to join in the broadcast.
She said: "Experience isn't essential, instead we're looking for commitment, enthusiasm and energy which are more important than previous experience or skills."
The production is being directed by Mark Murphy who worked on Liverpool's 2008 Capital of Culture Opening Ceremony.
Aaqil Ahmed, BBC head of Religion and Ethics ,said: "The Preston Passion will be the centre piece of our religion programming this Easter - with its unique combination of live spectacle and performance coupled with fantastic and contemporary pre-recorded drama it really will be must see television on BBC One.
"We are looking for the people of Preston to really get involved and volunteer to be part of this live programme."
The Preston Guild dates back to 1179 and is held every 20 years.
In 2006 BBC Three broadcast The Manchester Passion featuring music from bands including Joy Division, New Order, The Smiths, Oasis and M People.