BAE Systems union says 'nothing signed' in India jet deal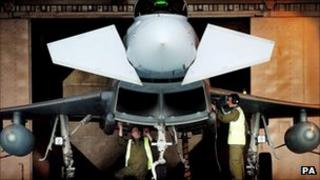 A union leader at BAE Systems Warton said he was "not overly worried" that a French firm is the lowest bidder for an export deal worth $11bn (£6.3bn).
BAE Systems was hoping to partly assemble 126 Eurofighter Typhoon jets at Warton and Samlesbury in Lancashire for the Indian Air Force.
India's government said Dassault put in a lower bid for its Rafale jets, and it was in final talks with the firm.
Unite's Bob Holmes said it would be a "blow" but nothing had been signed yet.
BAE Systems said it had not been officially notified of the development.
A BAE Systems spokesman described the news as "speculation" and until they received confirmation by German company Cassidian, who is leading Eurofighter's bid, they would be unable to comment.
'Massive blow'
Indian Defence Minister AK Antony had earlier cautioned that this remained a "long process" and that no deal would be signed before the end of March.
Conservative MP for the Warton area, Mark Menzies, said "now is not the time to give up".
The Fylde MP said: "It is time to for all concerned to redouble their efforts. I know UK ministers and BAE have been working hard to help secure this deal and if there is an opportunity we must seize it.
"I am sure the four-nation consortium will continue to work together to explore every possible option and try everything possible to secure this vital contract."
Mr Holmes, convenor of Unite for manual workers at BAE Systems Warton, said: "They have gone with the cheaper bid but the Eurofighter has a far greater spec.
"It would be a massive blow if we didn't get the contract but there is a long way to go and nothing has been signed yet. This happens a lot in business - it is part of the process."
Mr Holmes said the contract would not affect pending job losses at Warton and Samlesbury. "Whether we get this contract or not - it will not impact on job cuts as these were already factored."
BAE Systems announced plans to cut 1,400 jobs in Lancashire and up to 900 at Brough in East Yorkshire in September.
However, the firm said in January that more than half the 1,400 jobs under threat at BAE Systems in Lancashire have been cut without compulsory redundancies.
The Typhoon is built by the German and Spanish branches of European aerospace giant EADS, Britain's BAE Systems and Italy's Finmeccanica.
The Eurofighter lost out in December on an $8bn deal to supply jets to Japan.