Blackpool Zoo uses glitter to identify gorilla poo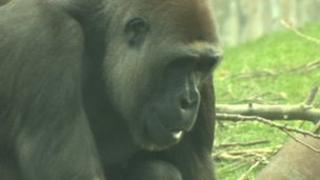 Primate keepers at a Lancashire zoo have come up with a sparkling idea to help them measure reproductive hormone levels in one of their female gorillas.
Njema, who is 18 and came to Blackpool in 2002, has not yet had any babies despite being young and healthy and mating with resident silverback Bukavu.
Zoo staff are using child-friendly glitter mixed with yogurt as a means of being able to identify her droppings.
They can then send it off to specialist labs for analysis.
Peter Dillingham, animal manager at the zoo, said: "We would have hoped to have had a positive pregnancy test by now.
"We know that Bukavu is fertile as he fathered the first baby Western Lowland Gorilla ever to be born at Blackpool Zoo, who will turn two in May.
"Surprisingly, you can get a lot of information about hormone levels from a gorilla's faeces but we needed to be able to tell which was Njema's.
"Our first idea was sweetcorn, which worked until our gorillas realised it is just as edible the second time round."
Mr Dillingham said staff checked with the zoo's vet and the European Association of Zoos and Aquaria that using the glitter would be safe.
It is part of the Blackpool Zoo's policy to have as little human contact with the animals as possible and not to remove them from the group for veterinary checks unless it is absolutely necessary.
The zoo is currently home to five Western Lowland gorillas.