Pigeon fanciers flock to Blackpool for 40th anniversary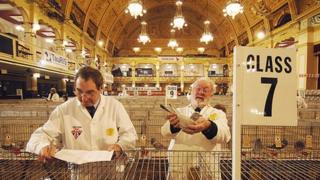 Thousands of pigeon fanciers have flocked to Blackpool for the 40th British Homing World Show of the Year.
More than 25,000 people are expected to see over 1,000 fancy pigeons and 3,000 racing pigeons at Blackpool's Winter Gardens.
The show, said to be the biggest of its kind, is organised by the Royal Pigeon Racing Association.
Blackpool's business tourism manager, Mandy Tythe-McCallum, said the show was a "welcome boost" to the town.
Ms Tythe-McCallum said: "[It] is the biggest racing pigeon event in the world.
"Events like these mean a lot to the local economy, offering a welcome boost to tourism in the resort."
Fanciers from as young as eight will be competing to win Best in Show award with each category winners going through to the supreme champion class.
Pigeon fanciers have been known to pay up to £100,000 for a pedigree racing pigeon or its offspring at the gathering.
All profits made at the event are donated to various charities.
The event started in Doncaster in 1972,but has been held in Blackpool since 1977.