Darwen Tower dome lifted into place by helicopter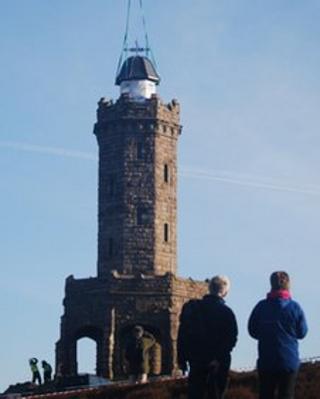 A Lancashire landmark that lost its crowning dome in high winds more than a year ago has had a new top lifted into place by helicopter.
Darwen's Jubilee Tower lost its fibreglass dome and weather vane during winds of up to 80mph (129km/h) on 11 November 2010.
The new steel dome was made by Darwen engineering company WEC Group Ltd, as a gift to the town.
It cost more than £35,000 and was winched into place at about 12:00 GMT.
The new top, made from powder-coated stainless steel, is the third to crown the tower.
The original, made from wood, also blew off in high winds in 1947. It was eventually replaced by one made from fibreglass after Darwen mayor Bill Lees launched a fund in 1971.
Peter Roberts, who has overseen the building of the new dome, said: "A stainless steel structure will never corrode away, and will be there for another 500 years."
Many residents from the town climbed the moors to witness the dome being being put in place.
Darwen Tower, a Grade II listed structure, was built in 1897 to commemorate Queen Victoria's diamond jubilee.